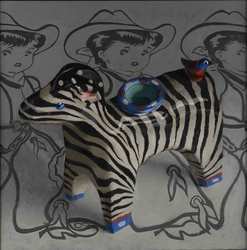 Biography
Painter RJ Grady was born in Hartford, CT. After completing a rigorous three year program of studio art courses at the School of the Worcester Art Museum, he earned his B.A. from Clark University in 1975.
In 1975, Grady was invited by renowned still life painter Robert Douglas Hunter to study under him at the historic Fenway Studios building in Boston. During his two year mentorship with Hunter, Grady met Gyorgy Kepes, the esteemed Bauhaus-affiliated artist and founder of the Center for Advanced Visual Studies at Massachusetts Institute of Technology. Grady served for several years as Kepes' studio assistant, working closely with with him on monumental stained glass projects commissioned for the Harvard Square subway station in Cambridge, MA, and Christ the King Catholic Church in Milwaukie, OR.
From 1975 to 1980, Grady taught painting at the Worcester Art Museum, and was a visiting lecturer in drawing and painting at Holy Cross College.
A founding member of Fenway Studios Incorporated artist cooperative, Grady was instrumental in Fenway Studios' acheivement of National Historic Landmark status in 1989. He is also a founding member of Friends of Fenway Studios, a non-profit corporation dedicated to the restoration and preservation of Fenway Studios, for which he has served as secretary since its inception.
Grady mounted his first solo exhibiton at Fletcher/Priest Gallery in Worcester, MA, and currently has an exhibition at the Gallery at North Hill in Needham, MA. His work has been featured in a two-person show at Vose Galleries in Boston, several group exhibitions at venues including the Fitchburg Art Museum in Fitchburg, MA, as well numerous juried exhibitions nationwide.