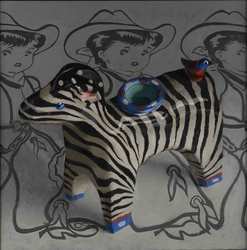 Biography
BORN IN HARTFORD, CONNECTICUT, RJGRADY GRADUATED WITH A BA FROM CLARK UNIVERSITY AND FROM THE STUDIO PROGRAM AT THE SCHOOL OF THE WORCESTER ART MUSEUM.
WHILE STUDYING WITH ROBERT DOUGLAS HUNTER AT FENWAY STUDIOS IN BOSTON, GRADY MET GYORGY KEPES, THE BAUHAUS-AFFILIATED ARTIST AND FOUNDEROF THE CENTER FOR ADVANCED VISUAL STUDIES AT MIT. GRADY SERVED AS KEPES' STUDIO ASSISTANT WORKING ON A NUMBER OF STAINED GLASS WINDOW PROJECTS ACROSS THE COUNTRY.
BETWEEN 1975 AND 1982 GRADY TAUGHT PAINTING AND DRAWING AT THE WORCESTER ART MUSEUM AND AS VISITING LECTURER AT HOLY CROSS COLLEGE.
GRADY WAS INSTRUMENTAL IN ACHIEVING NATIONAL HISTORIC LANDMARK STATUS FOR THE FENWAY STUDIO BUILDING IN 1989. A FOUNDING MEMBER OF FENWAY STUDIOS INC. AND FRIENDS OF FENWAY STUDIOS HE SERVED ON BOTH BOARDS FOR MANY YEARS.
HIS WORK HAS BEEN FEATURED IN MANY GALLERIES AND NATIONAL JURIED EXHIBITIONS, MOST NOTABLY AT VOSE GALLERIES IN BOSTON, CHUCK LEVITAN GALLERY IN NYC AND AT THE FITCHBURG ART MUSEUM IN MASSACHUSETTS.
MOST RECENTLY, HE WAS FEATURED IN A THREE-PERSON EXHIBITION AT THE KAKORIAN GALLERY AT WORCESTER STATE UNIVERSITY AND HE WON FIRST PRIZE AT THE 2022 NEW ENGLAND ARTIST EXHIBITION AT THE DANFORTH ART MUSEUM IN FRAMINGHAM MASSACHUSETTS.